Publica una Cerveza
Añade un Comentario o Imagen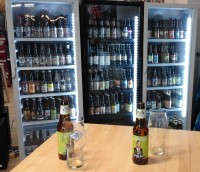 Degustación de cerveza por San Fermin - Gratis!
. Por tercer año consecutivo, como ya es tradición, os invitamos a degustar ,gratis, una cerveza ...
La 22 Obscura
. La 22 Obscura Brown Ale Cerveza de color oscuro, notas de café y caramelo, amargor medio
Firestone Walker Brewing Company
. Funny How Brothers settle things the old fashioned way. Try brothers-in law. Who own a brewery together. Adam, AKA The Bear, and David, AKA The Lion, may battle, epically at times, but at least neither ...
Cocinar con cerveza San Miguel
. Cocinar con cerveza San Miguel
Symphony (Lúpulo)
. Lúpulo: SymphonyPaís: USAAlfa Ácidos: 16% - 18%Beta Ácidos: 5% - 5,6%