¿Quién hace tu cerveza?
¿Quién hace tu cerveza?
Muchas veces te habrás preguntado quién o dónde se hace realmente la cerveza que estás bebiendo. Si quieres averiguarlo, introduce el número de Registro Sanitario - nº RGSEAA ( Registro General Sanitario de Empresas Alimentarias y Notificación de Alimentos) y te diremos qué productor la fabrica, su marca y sus cervezas. ( Solo disponible para cervecerías españolas...por ahora)
Comprar Cervezas - Buscar, comparar precios y comprar cerveza de todas las marcas y estilos de cientos de tiendas online.
Otras Cervecerías Consultadas

---
---
---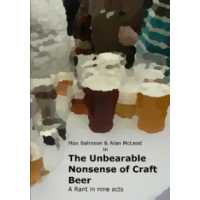 The Unbearable Nonsense of Craft Beer - A Rant in Nine Acts
. Max Bahnson and Alan McLeod embark on a swashbuckling romp into the depths of the modern beer discourse. On a perilous journey that takes them through the time-space continuum, where they meet an array ...
AVB
. Alcohol por volumen, en inglés Alcohol By Volume. Representa que porcentaje es alcohol del volumen total del líquido, en nuestro caso, cerveza. Se expresa en %