Publica una Cerveza
---
---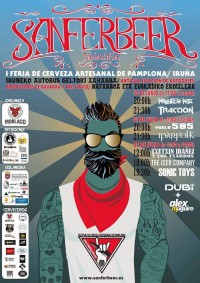 Sanferbeer Jaialdia - I Feria de Cerveza Artesanal de Pamplona / Iruña
. Dieciséis productores de Navarra y País Vasco protagonizan la I Feria de Cerveza Artesana de Pamplona Bajo ...
Camba Pale Ale
. Camba Pale Ale
Cerveza Tierra Vettona
. La cerveza artesanal Tierra Vettona es el resultado de la evolución de la cerveza desde la época de los vetones a la actualidad. Cerveza ligera, suave y con gran sabor y aroma.
Cheese & Beer
. The booming worlds of craft beer and artisan cheese meet in this first-ever guide, an introduction to the most popular craft-beer styles and the cheeses that complement them. This richly photographed ...
Hotbreak
. Proceso mediante el cual las proteinas coagulan y se precipitan al fondo de la olla durante la ebullición del mosto.